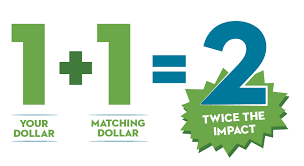 Dear Brothers and Sisters,
I was moved with great joy with the spirit of generosity that exist in our parish as some of you stepped up right away this weekend to kick off our $25,000 matching fund challenge. 
As you know a generous donor has challenged us to match funds up to $25,000.00 toward our Capital Campaign before May 31st.  Although that triggered  nightmares concerning how we will meet this challenge by May 31st, but your unbelievable and immediate act of generosity has given me great hope!
Several people have donated to help me get some sleep and saved me from falling into insomnia; what a great sleep prescription (laugh). I am still hoping for more donation for us to meet this challenge by May 31st. Please consider making a gift now to double the impact and meet this challenge. 
On your checks please designate in the memo: 'Matching Challenge'.
Thank you for your support!
Fr. Faustinus